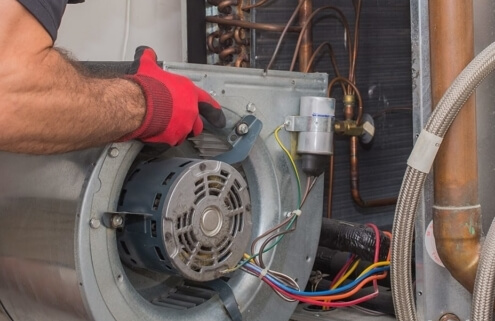 A significant part of our corporate vision at Service Unlimited is the idea of turning prospective customers into clients and those clients into long-term partners. The reason that we believe the greatest value comes from a long-term partnership is the nature of commercial HVAC systems. Like most pieces of equipment, they benefit from regular maintenance and that type is best performed by technicians that are familiar with the advantages of preventative maintenance within HVAC serving. This is especially true in commercial locations where the working conditions have a direct impact on the performance and productivity of your workplace.
Why does it matter?
Some building owners and managers might ask why they should worry about repairs when their systems are currently running adequately. This is reactive maintenance kind of thinking and it is an inefficient way of managing your resources. Just waiting until you have outwardly noticeable issues will end up costing you more in emergency repair services and the possibly lengthy downtime can disrupt your business operations. Commercial preventative maintenance works to get ahead of these problems proactively before they grind things to a halt.
Why HVAC Preventative Maintenance
Energy Savings: Someone might look at maintenance costs as a waste of their resources, but one of our maintenance teams can more than make up for those expenses in the savings we'll bring to your energy bills. Maintenance plans and building operation requires thinking for the long-term and, over time, your various pieces of HVAC equipment will run more efficiently when they are well-maintained.
Equipment Longevity: HVAC systems for any location are not a minor investment. Commercial HVAC systems are typically one of the most expensive parts of your building and you want to get the longest life possible out of them. A routine preventive maintenance schedule is one of the best strategies for promoting the longevity of your overall system. We will spot issues before they become problems and help you plan for any costs that are likely to come in the future.
Productivity In the Workplace: The temperatures in the workplace will have a direct impact on the productivity of your workforce. A well-maintained heating and cooling system will be better for your business. Routine HVAC maintenance maintained by a service provider like SUI will also mean there is one less thing on your plate. You can stay focused on your work and let us worry about your HVAC systems.
Improved Comfort: The whole reason we install air conditioners and heaters to make ourselves more comfortable no matter what time of year it is. An HVAC system that is healthy will provide a higher level of comfort across the board. Creating comfortable work environments is what we do, we are the experts you need to maintain it.
Healthy Air Quality: One type of air pollution that few people think about is indoor air pollution. The truth is that the quality of your indoor air can have a direct effect on your health and the health of anyone else in your building. Air needs to be efficiently distributed and vented to deliver the indoor air quality that you deserve.
The bottom line is that HVAC preventative maintenance is better for you, your employees, and your business. The advantages found within preventative maintenance are a necessary precaution to protect your business. Don't let these needs go unchecked and partner with a team that has the expertise you need. Service Unlimited is equipped to maintain a healthy and safe working environment for you. Contact us today to learn more about our services.
https://www.suihvac.com/wp-content/uploads/2019/01/WhyServiceUnlimited-Hero_hvac-system-installation-495x400-1.jpg
400
495
kkoski
https://www.suihvac.com/wp-content/uploads/2019/01/SUI-Logo-copy-300x110.png
kkoski
2019-01-07 15:34:33
2020-06-11 01:44:30
5 Advantages Of Preventative Maintenance