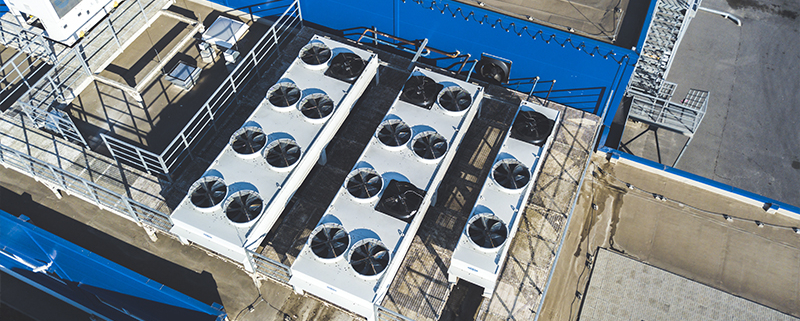 4 Reasons to Invest in Commercial HVAC Maintenance
The right preventive maintenance program creates more energy efficiency and higher cost savings, while also reducing headaches associated with an HVAC system.
It's easy to take our commercial HVAC maintenance equipment for granted until it stops working—and that always seems to happen when we need it most. The fact is, an efficient heating and cooling system is an integral piece of equipment for any type of business. Just think about your air conditioning breaking down during a smoldering summer day or the furnace shutting off during a brisk winter. These types of issues can put your employees' safety at risk, curtail production, and cost you a lot of money to repair. Luckily, you can avoid most problems by protecting your HVAC system with regular maintenance.
The Importance of HVAC Preventive Maintenance
Signing a preventive maintenance contract with the Service Unlimited team is one of the smartest business decisions you can make. By working with our team, you'll be able to get optimal results from your HVAC system. These are just some of the primary benefits you'll be able to take advantage of:
Higher Energy Savings
Heating, cooling, and ventilation account for a majority of energy bills. If your equipment isn't being cared for properly, accumulated dust, dirt, debris, and other substances can strain its performance. This forces the system to exert more energy, which results in higher utility bills. You can conserve more energy by scheduling a routine maintenance checkup to keep your HVAC equipment in pristine condition.
Extends the Life of Your HVAC Equipment
If your HVAC system isn't being properly maintained, expect to replace it every five to seven years. This "run-to-failure" method may cost you less in the short term, but in the long run, it can be a major financial setback. By regularly servicing your commercial HVAC system with professional maintenance, you'll be able to garner its best results for more than 20 years.
Safer Air Quality and More Comfortable Indoor Climate
By establishing a maintenance routine, you'll be able to keep your system clean and this will help generate a healthier, more consistent air flow. A professional HVAC specialist is responsible for eliminating mechanical obstructions. This helps balance humidity levels, eliminate hot and cold spots, and optimize indoor comfort all around.
Less Downtime, Fewer Repairs, and More Peace of Mind
Without proper maintenance, your HVAC system is bound to encounter a mess of problems. When you face a mechanical disruption, you'll have to schedule a repair to get your system running again. This can steer you away from your operation and even force a halt in production. When you're running a business, any downtime is detrimental. Professional maintenance patches up issues before they expand into emergencies. This keeps your HVAC system functioning smoothly and your operation in motion.
Establish Your Maintenance Schedule Today
At Service Unlimited, we take pride in being more than just an ordinary HVAC contractor. We are full-service problem solvers who want to help you get the most from your HVAC system for years to come. If you want to take advantage of a healthier, more comfortable air flow with exceptional cost savings, contact us today to set up your maintenance program!
https://www.suihvac.com/wp-content/uploads/2019/06/AdobeStock_216343229.jpeg
600
800
digitalteam@viamark.com
https://www.suihvac.com/wp-content/uploads/2021/01/SUI-Logo-copy-300x110-1.png
digitalteam@viamark.com
2019-06-28 21:46:22
2021-06-22 20:24:16
4 Reasons to Invest in Commercial HVAC Maintenance